World Cup preview by Jonas Stephan and Steven Turek
SoccerCoaches interviews Jonas Stephan and Steven Turek – both analyze selected games of the World Cup for soccer-coaches.com
SoccerCoaches: Already in the last two big tournaments you have dealt with the tactical developments in world football.
Jonas: Exactly, in 2014 this was still part of our jointly written bachelor thesis. Here we have mainly dealt with the way teams created chances. Of course we focused on tactical issues, such as how Argentina acted in a 4-4-2 diamond, and why Messi did not fare as well in this formation as in the FC Barcelona jersey. But also a statistical evaluation was of course part of it. In 2016, Steven dealt intensively with the European Championship. After all, the analyzes have even taken over by the German Soccer Association in large parts. (A the review of the EM 2016 can be found here)
"THE individual QUALITY AT THIS WORLD Cup HAS NOT SO SEEN IN THE LAST YEARS" – JONAS STEPHAN
Steven: The European Championship was very interesting in different areas. Especially the new tournament mode led to many games in which both teams were very concerned about safety. Unfortunately that was at the expense of attractiveness. Nevertheless, you could see very well in the top games, how top teams try to bring their top players in position. Tactically, due to the first mentioned development, especially the game against low-block opponents connected with it the counter-game over very long distances played an important role. Especially the difference in the game against 4 or 5 chain was good to watch and certainly has more potential to improve.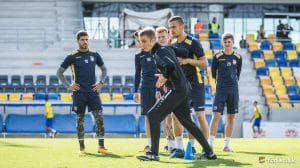 SoccerCoaches: In the time after that you have given many coaching courses on this topic and also written an eBook about it! What did you expect for the coming weeks?
Jonas: One has to say that many teams have emerged in the meantime, some of which have unbelievable individual quality in their squads, from goalkeepers to substitute players. Teams like France, Brazil, Spain, Belgium and also we have now a density of quality, which you have not felt in the last few years. Maybe then the question of how to bring individual players into position with several teams in the foreground than in the last tournaments. For Brazil, for example, the question arises how they get Neymar as promising as possible to the penalty area.
"TEAMS NEED TO BE outstanding IN ALL GAMING PHASES, The time of specialists seems to be over" – STEVEN TUREK
Steven: What has also been seen in club football is that the development clearly goes to the fact that teams dominate all phases of the game instead of specializing in a game phase (for example, counter-play). A good example of this was Belgium at the last European Championship. Belgium scored goals every time they got De Bruyne and Hazard going – they scored the most goals over counterattack. But this is no longer enough for top teams. It will be exciting to see if Belgium has developed here. If you look into club football Real Madrid has been dominating for years and they can do a really good job, whether high pressure, low, counterplay or possession of the ball. This development will normally be reflected in the World Cup.
SoccerCoaches: Which teams are furthest in this context for you?
Jonas: Germany is undoubtedly the broadest player in the game. We can bring different players in different positions and change a lot with them. But also Brazil and France have an awful lot of weapons that can be used differently. Here, of course, also change in the course of a game. Here are coaches who have more quality in the squad, of course, at an advantage.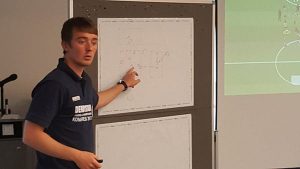 Steven: A big plus for the German team is also the experience of the last tournaments. Players are used to playing quarter and semi-finals. Of course, this means that we should be able to retrieve the performance regardless of the situation. But also – as Jonas says – all teams with good players are also very variable. Forgetting is always so a little Spain. After the small result low, they are back in full strength and not only dominate their tiki taka outstanding.
SoccerCoaches: We're already there with the teams – who will win the tournament?
Jonas: We're sure to be in the raffle again. A little bit I believe in Brazil. Something like 2014 does not happen again.
Steven: I believe France. Two years ago, they sniffed final air and may be the best. I would like to Argentina and Messi. The World Cup title would cement its place in history.
SoccerCoaches: We look forward to your analysis and many thanks!
Analyzes of the two can be found daily on this page.