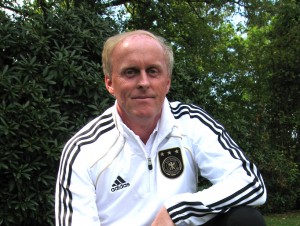 DFB Coach Ralf Peter
DFB coach of the U17 and U16 national team (female).
Speaker and presenter at numerous conferences trainer at home and abroad.
Author of many books and DVD and about 110 articles in the journal "soccer practice" on various topics.
Presenter at the International Trainer Congress (ITK) of the German Soccer Coaches Association BDFL.
Presenter at the regional Courses of the BDFL
Presenter at U.S. Congresses u.a. NSCAA
Presenter at Egyptian Football Association / Cairo
Activities as a coach
DFB-coach with the tasks:
U17 national team (female)
U16 national team (female)
Assistant coach of women's activities at ANationalmannschaft, U21 and U17 junior men's national team
Scouting at the A-Team (Men and Women)
DFB coach educators with the tasks:
A license coach training
Speakers activities derFußballlehrerausbildung
1999 – 2001
Association of physical education teacher at the Football Association of Lower Rhine, with the following tasks:
Scouting and talent development
Selection teams U12 – U21 (Male)
Courses for coaches: Trainer children, youth coach, C-B license and license
1996 – 1999
Youth head coach in VFL Borussia Mönchengladbach 1900 eV with the tasks:
Managing Director of the entire youth department
U19 and U17 coaches
Scouting for the licensing department
Activities assistant coach at the Licensing Department
Publications
about 110 articles in the journal "soccer practice" on various topics
DFB textbooks
modern Defending
children's soccer
Position Training
Football card files
Educational Films (video / DVD)
Football pure E / D Youth
Football pure D / C Youth
Football pure B / A Youth
Soccer ball, pure magic
Pure football deceptions and feints
Pure soccer ball-oriented defense