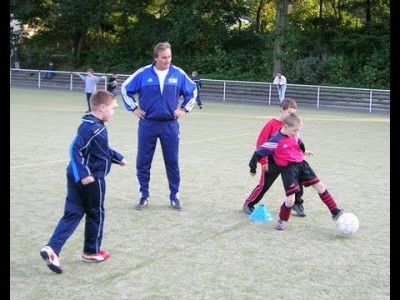 The main point is:
Stimulation through play instead of instruction through drills.
The more a good youth soccer coach knows, the less he reveals!
Learning by practice (motor learning) goes hand in hand with learning by perception and reasoning (cognitive learning).
Modern youth soccer coaching is therefore aimed at developing soccer technique and soccer intelligence in complex game situations.
The coach confronts his players with the same or similar game situations, in which they have to make decisions quickly and translate them into action.
The coach asks the players questions designed to stimulate them to discover answers for themselves in small sided games. Only in this way – and not by constantly following the coach's instructions – can they develop genuine soccer intelligence.
TELL ME – AND I WILL FORGET
SHOW ME – AND I WILL REMEMBER
INVITE ME – AND I WILL UNDERSTAND (LAO TSE).
Contents:
What is soccer intelligence? 4
How can youth soccer intelligence be encouraged? 4
An intelligent player 5
Making coaching sessions as exciting as real games 6
Made-to-measure games 7
Why mini-soccer? 8
Rules of mini-soccer 9
Preparatory games for mini-soccer 12
Testing playing ability in min i-soccer 27
Mini-soccer pentathlon 30
Developing soccer intelligence with variations on mini-soccer 36
From mini-soccer to 7 v 7 49
Finding space, passing, shooting, controlling and running with the ball, taking the ball past an opponent and winning the ball – these technical skills can be learned relatively easily. An intelligent player also understands how to merge these basic elements into a higher, more meaningful and effective whole.
In the search for the best possible solution to a game situation, an intelligent player quickly sees the available opportunities, but also the risks. While he perceives and analyzes the actions of his teammates, he already knows and has mastered the various solutions to the problems that arise and understands how to translate these solutions into practice.
---
Learn how to efficiently open and use space against deeply defending opponents! With detailed solutions for the build-up, training exercises for all skill levels and emphasis on the right coaching.
---