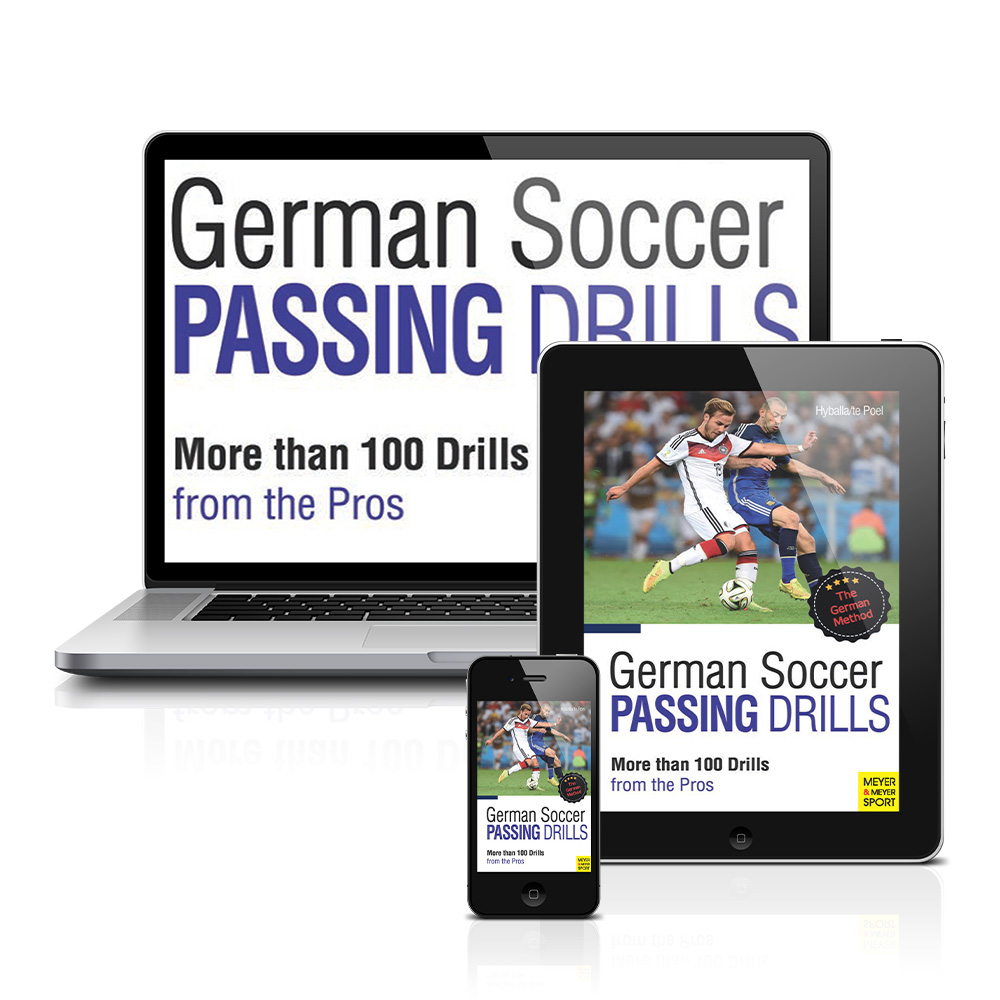 Train like the World Champions! Over the past few years, a new trend has become ever more prominent in the soccer world:
Passing often and fast, and including all players in the game. Combining this with their own personal style, we have seen teams reach new heights of success from FC Barcelona to Bayern Munich and Borussia Dortmund and, most recently, the German National Team at the 2014 World Cup in Brazil.
More than 100 Passing Drills from the Pros
But what does it take to learn this 'art' of passing?
What are the methodological and technical requirements for becoming the new Schweinsteiger, Messi, or Neuer?
In this book, the only of its kind, two German League certified coaches have created the ultimate guide to passing. Using the "Hyballa-te Poel-Passing-Puzzle," they present every type of pass there is in modern soccer, with lots of drills for each type. From the goalkeeper to the center forward, everyone can learn passing with these exercises.
FOREWORD – Hansi Flick
Hans-Dieter Flick Sporting director of the German Soccer Federation (DFB) and former assistant coach of the German national soccer team, World Champion 2014 in Brazil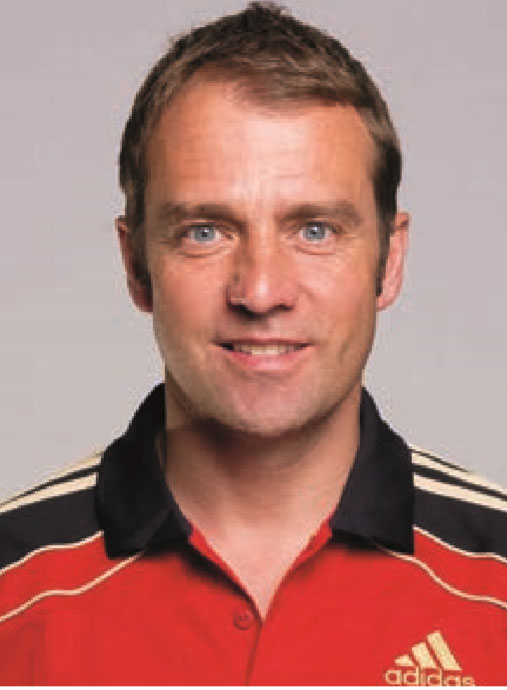 All ball circulation is based on a good passing game. Many recent examples show that this can result in successful top-level soccer. Within the scope of their playing philosophy, even the national team constantly works on the passing game and combines this with group and team-tactical measures. To implement variable and efficient team play at the highest level, teams must be able to quickly open up space. In particular, this can be done with precise, well-timed, flat, hard, and vertical passes.
A successful passing game relies on foundations laid by targeted, variable, and intensive training. Training units on the field are extremely important for coaches and players as their teams evolve and try to reach the highest level. In German Soccer Passing Drills, Peter Hyballa and Hans-Dieter te Poel lay the foundation to develop a successful passing game.
In this book, the authors examine many types of passes and performance factors that can lay the foundation through training. As such the book German Soccer Passing Drills is a training model and is a true mine of information for any coach.
In 2015, the authors Peter Hyballa and Hans-Dieter te Poel published a second German book on the passing game. This work includes contributions from experts of the most diverse areas of performance-oriented soccer and applied sports science. The different perspectives of the what and how in the international passing game are presented using focused interviews; there is also a large number of additional drills and different types of plays.
Together these two books represent a handbook for all coaches and trainers with an interest in relevant, detailed, and intensive goal-oriented training and the advancement of their players. – Hans-Dieter Flick
Preliminary Remarks
Currently, there is much discussion about the passing game, particularly in professional soccer. Whether it is a tool that makes team play possible or enables the team to keep possession or is intended to create dominance on the field, all of these demands on the passing game are intended to result in winning the game. It can be that simple!
But how and with which drills and variations does a coach or instructor, together with young and adult players, develop an attractive and expedient passing game?
Is it specifically as a part of soccer training that focuses on the development, improvement, and optimization of performance, or is it all just a matter of talent, even magic, or solely the realization of a plan?
Based on individual training practice, ambitious coaches and instructors are always on the lookout for new suggestions as well as validation of one's own passing philosophy.
The authors therefore offer their colleagues a kind of training model for a modern passing game that can provide new ideas for their own training on the field. So does this mean more of the same old self-knitted rudiments and recipes for a modern passing game? Not at all!
The book is divided into six chapters, including the foreword by the German national team assistant coach, Hans-Dieter Flick.
Chapter 2:
In chapter 2 the coach and instructor learns about the essential game-theoretical considerations that the training model, the Hyballa/te Poel Passing Puzzle IQ® (see chapter 4) is based on.
Chapter 3
Chapter 3 focuses on the question of whether a pass, is a pass, is a pass, as is often the mindset in training and instruction and de facto in soccer. This issue is analyzed and outlined based on:
the content of chapter 2,
the requirement profiles and specific complexity of soccer,
the necessary emotional control during the passing game, and
the players' critical thinking ability.
Chapter 4
In chapter 4, we outline our complex Hyballa/te Poel Passing Puzzle IQ® intended to contribute to the coach's and instructor's ever-present quest for the "highest passing quality." But it also includes additional performance-determining factors and always takes into account the coach's and instructor's attention to time spent selecting drills and types of play and collective self-referential communication (of team or rather group). For the players, competition and training play an important role in the desired positive development of fast, precise, variable, and creative passing within the group: There are many small soccer worlds!
In subchapter 4, the reader learns why we chose the form of a puzzle and why—see subchapter 4.2—this can be easily applied to practical training using passing grids (framework). In this regard, a lot of emphasis is placed on dovetailing practical training with the game's situational context. Subchapter 4.2.1 shows how to coach this on the field with the innovative 3-action system.
In subchapter 4.3, the reader is presented with 20 types of passes (puzzles) that can be directly implemented on the practice field: organization, process, coaching, and variations. These should be integrated without restriction and combined with other performance-determining factors (e. g., passing fitness). The desired playing creativity that coaches, instructors, and players are meant to achieve in working with the Passing Puzzle® is referred to as "IQ" (passing intelligence).
The different parts of the picture, 20 puzzles on the surface and 6 puzzles in the deep, represent the demands of competitive play.
The puzzles are presented to the reader in the form of shelves with materials such as in a hardware store. In a well-organized hardware store, these are fully stocked so that someone, whether an amateur or a professional, can pick and choose at their own whim. This image helps the reader to comprehend the material in this book.In this regard the subchapters 4.3.18 (Tiqui-Taca Special—Rondos) and 4.3.20 (Special Goalie Passing With Goalie Trainer Marco Knoop) provide two particularly excellent puzzles with scope and attention to detail that have never been seen before. To this effect the Rondos for perfect compact foot and passing technique and goalie passing for professional goalie training are based on current empirical findings on goalkeeping.
In subchapter 4.4 we use our passing and playing philosophy to show how to teach implementation of the same on the field to one's own team, in this case a professional team, using the example of the narrow 1-4-3-3.
Subchapter 4.5 describes, discusses, analyzes, and interprets current insights on the question of how to implement the puzzle pieces in training and condenses many teaching and coaching methods and rules in the passing game into a comprehensive chart categorized by motor, cognitive, and mixed (linked) components. We refer to the individual Passing Puzzles® and the connections with the selected performance factors, technique, tactics (including passing intelligence) and fitness (endurance). By using these methodical components the coach or instructor is able to make his passing training goal-oriented, precise, and always diverse.
Chapter5
Chapter 5 offers a simple summary of essential suppositions and complements as well as quotes from colleagues who, in our opinion, have made forward-looking statements on these topics.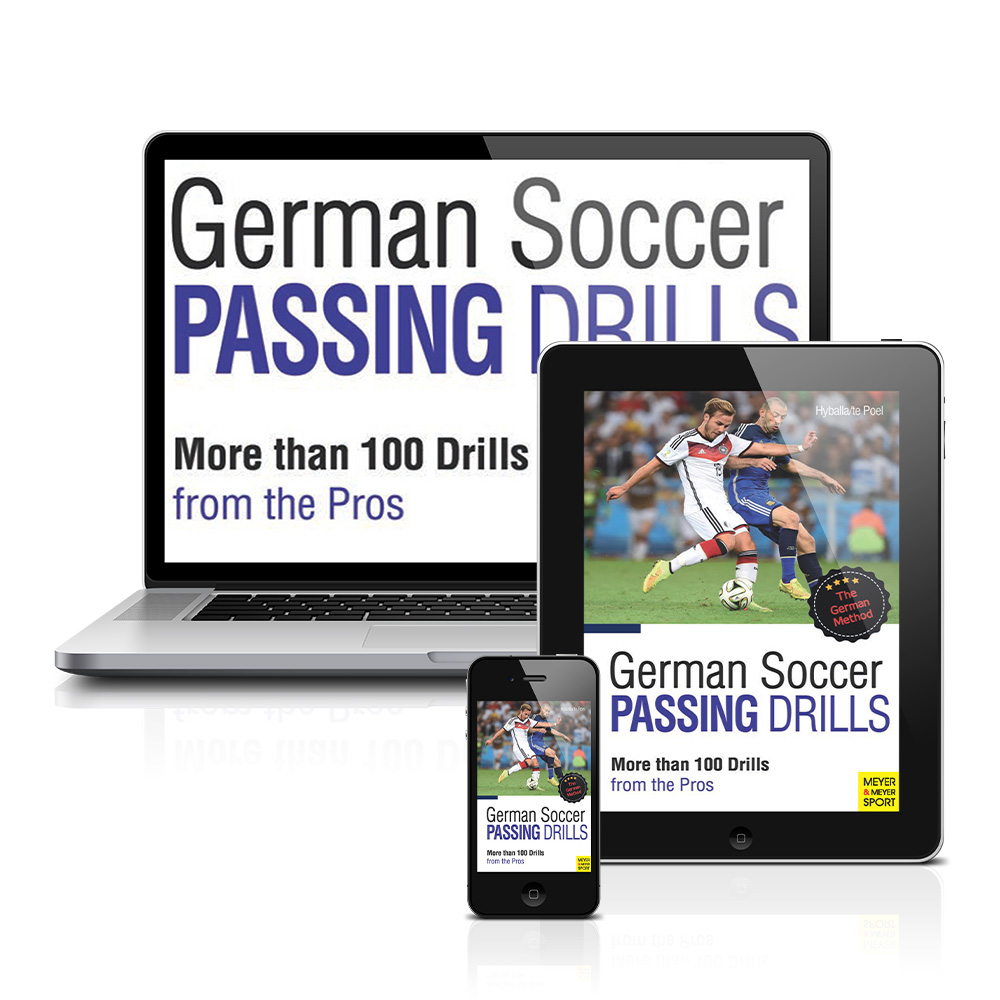 The book ends with extensive literary references and picture credits. The interested reader can browse here and find additional information for his training instruction. To that effect these parts of the book are not only significant as proof and a brainstorming hub for assertions and featured graphic work, charts, and pictures, but they are also intended to firmly and emphatically reinforce and express the necessity of bibliography, even in technical soccer books and articles about soccer.
German Soccer Passing Drills is now available in our Webshop!