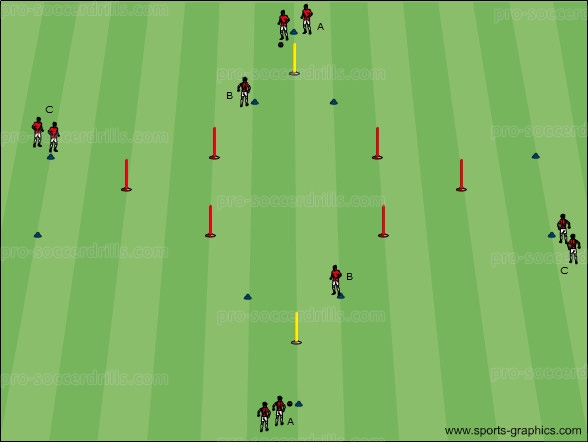 Soccer Drills 018: Performing and Preparing Penetrating Passes
Goal: This soccer passing exercise focuses on performing and preparing penetrating passes with receiving and combinations. This soccer drill also helps develop head orientation, awareness, vision, rhythm and performing the correct pace and angle of passes.
Organisation
Cones are used to mark the players' positions. Sticks are placed to draw the passing channels.
Distances must be created according to the given age-group.
Players change their positions continuously following their passes.
Players perform this soccer passing exercise with two balls simultaneously.
Description
Players start this soccer passing drill from positions A.
Two variations are performed. Players start performing their movements from the given positions and combine with each other according to the two variations.
Variation 1: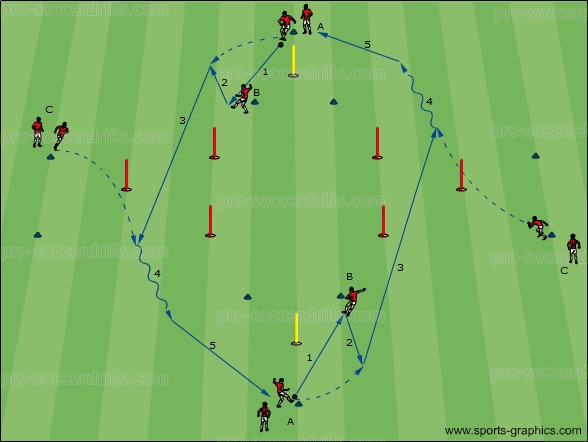 Player B approaches and combines with Player A to get back the second pass from Player A in angle (3). Player B receives the ball in an open body position and dribbles (4)laterally to open the passing channel and performs a well weighted pass (5) to Player C. Player C starts to sprint to the space when Player B dribbles.
Variation 2: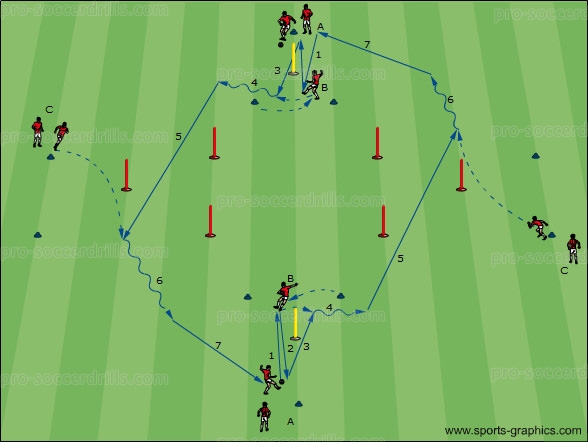 Player A passes (1) to Player B who lays the ball back (3) in angle to open the passing channel. Player A passes (3) a long penetrating pass directly to Player C. The keypoints of these combinations are the following: the position of Player B's lay down, the movements of Player C and the pace and angle of the penetrating pass (3).
Coaching Points
Introduction and comment of the movements and required combinations
Heads up from the ball
Adequate angles and pace of the passes are vital
Correct timing and angles of supporting movements without the ball
Keep the ball on the ground
Changing pace with and without the ball
Demonstration and correcting mistakes of correct supporting movements
Try to find the best harmony and rhythm of the cooperation
Stop the exercise and correct mistakes when needed
Take care of extra balls