PSD Soccer Drills:
Goal: This soccer passing exercise focuses on practising accuracy and weight of passes. This soccer passing drill also develops one touch passing, wall passing, laying balls off, sharp touches and supporting movements.

Set up
Organisation
Create a 12×12 meters square and a smaller about 8×8 meters square inside the bigger area. Place one player to the cones.
Description
After their passes players return to their starting positions. After a determine number of repetitions the players change positions between A and B cones.
Soccer Passing Drill, variation 1: A1 starts with a short pass to B1 who lays it back to him. Then A1 delivers a sharp, strong one touch pass to A2. A2 lays it off to B2. After that the progression is the same in each corner.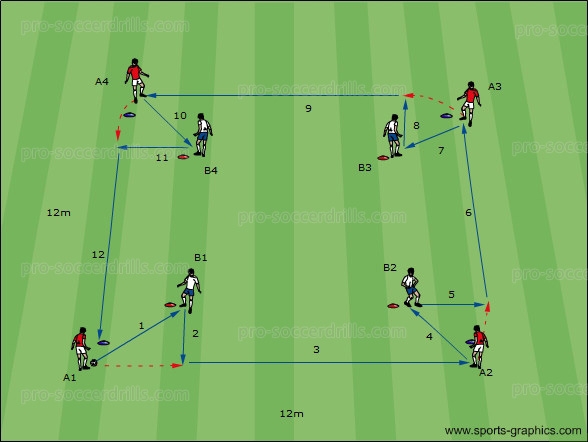 Soccer Passing Drill, Variation 2: A1 passes to the supporting B4, and gets the ball back from him. After the wall pass with B4, A1 forwards the ball to A2. In that moment B1 goes to support A2. The same progression is repeated in each corner.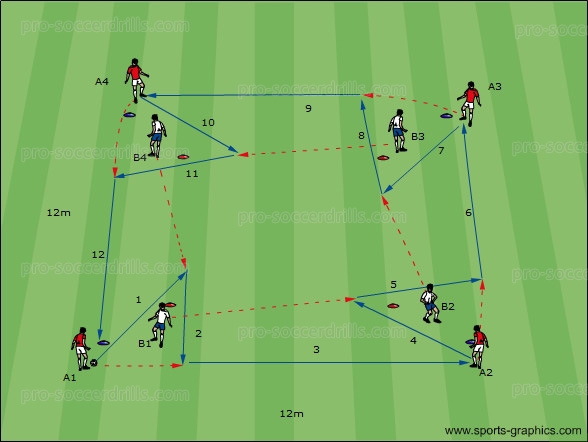 Soccer Passing Drill, Variation 3: The supporting player comes from the diagonal corner.

Coaching Points
Accuracy of passing and quality of touches
Communication between players
Perfect angle of supporting player is vital
Concentration in the game
Heads up before passing
Hit the middle of the ball. Take care of the pace of the ball
Keep the ball on the ground
Take care of extra balls
Restart the psoccer passing drill calmly when ball is out
Set Up
Number of players: 8
Area: 10-12 m
Time: 20 – 25 min
Equipment