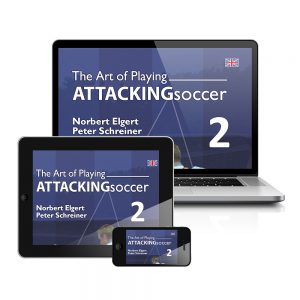 Authors: Peter Schreiner (Institute for Youth Soccer, Germany) and Norbert Elgert (Head Coach U19 FC Schalke 04), Online DVD – The Art of Playing Attacking Soccer(2) Duration: app. 60 min.
More than 80 % of all goals are scored after less than 5 passes.
How do we organize varied and complex training forms?
How do you train "throug paasing" or "crossing in front of the back four?"
And how do you use spaces? How do you get players under pressure of time and precision? See interesting training forms with different technical and tactical focus. You also get tips and suggestions on the necessary corrections.
One-Touch Passing in a Square
See Trailer now

The Art of Attacking Soccer 2
Basic Drill
Shorter Distances
Clockwise Passing
Longer Distances
Combination with Shot at Goal
Change of Starting Position
Competitive Game
One-Touch Passing in a Figure-8
Basic Drill, Including Running with the Ball
Throwing the Ball
2-Touch or 1-Touch Passing
Corrections and Tips
Passing and Running at Speed
Double Wall Pass
Finishing
Wall Pass and Double Pass
Decision-Making
Additional Central Player
Skipping a Line
Skipping the Central Player
Double Pass and Wall Pass
Two Double Passes
Shooting at a Full-sized Goal
Y Drill
Basic Drill
Continuous Drill
Shooting at Goal
Forward Passing/Crossing
Passing via a Third Player
Double Pass
Overlapping
Brazilian Combination
Basic Drill
Skipping a Line
Double Pass at the Start
Creating Space/Crossing