Soccer-soaches.com recorded the series of online seminars in Germany November 2010. The participants were very satisfied with the content Ralf Peter presented at this weekend.
Original feedback on the website: www.sportakademie24.de
Selection of Feedback (translated):
Vanessa Martinez (FIFA-Instructor):
" The seminar was absolutely great. It has been totally worth it to be there. Ralf Peter presented incredibly well and was able to provide effective and professional expertise to the participants on.
I was impressed from the quality of the presentations and the use of new software (easy animation and easy Sports-Graphics) to visualize and simplified explanation of the tactical details.
I recommend this seminar for all coaches, who are interested in defensive tactics."
Helmut Schauberger, Austria
"Dear Sportakadeei24-team.
Tactics training at the highest level in a top-organized seminar. Congratulations and thank you."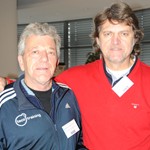 Andrew Singer, and Laco Borbely (Slovak Union,  Soccer Coaches)
Our expectations were completely fullfilled, because the German methodology and concepts belong to the best in the world.Top experts, top content, top quality, top presentations, an outstanding seminar.
Ralf Peter is an excellent expert. Impressive.
Compliments, congratulations and thank you.
We are looking forward to next live seminar by Peter Schreiner and Ralf Peter.
Martin Hasenpflug (Coach, Germany):
"Congratulations for this unique seminar. It was outstanding how Peter Ralf presented detailed complex tactical issues and was still very understandable.
I think all coaches (or a journalist) learned a lot in this seminar."
Helge Damm (Coach, Germany)
"Hi team, I've been in many seminars, but have never had such a terrific experience. Ralf is a perfect tactician who knew how to convey this course at all. A first-class seminar."
Jacob Reckmann (Coach, Mondorf, Germany)
"Thank you for this really challenging event. Ralf Peter has sharpened our analytical look at a football game by reaching down to the detail explanations really. To work with our teams, we now have an enormous knowledge available and we already looking forward to testing this in practice. Greetings from Mondorf"
Erhard Suffel (Coach, Bavaria, Germany)
Dear Sportakademie24 team,
Thanks and congratulations to you for the successful first Live-Academy. I never knew until now that football has much in common with strategy and chess. The contents were well presented and very challenging. Ralf Peter was very well prepared and hold a entertaining lecture. With kind regards from Bavaria, Erhard Suffel."
Rainer Blum (Coach, Konstanz, Germany):
" Though I practiced zonal defending for some years, I could take plenty of new Information, details and discoveries! The journey from Lake Constance has been worthwhile in any case! Rainer Blum, Konstanz FC".