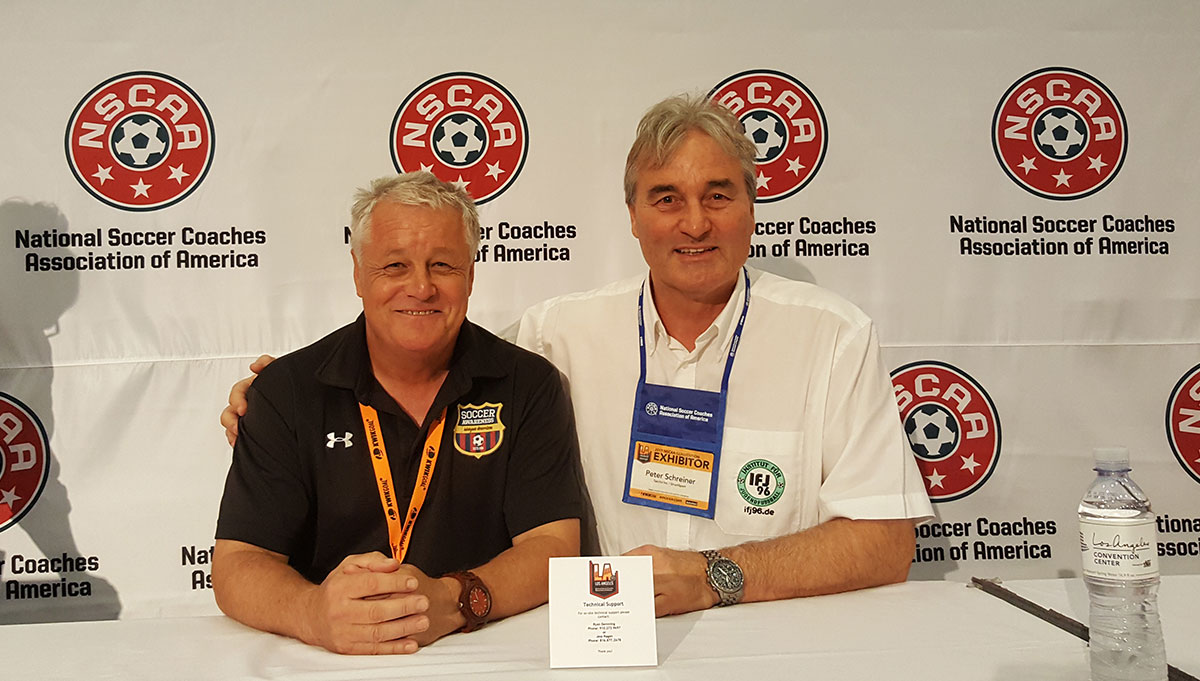 Peter Schreiner with Wayne Harrison (Soccerawareness) after his excellent day at the NSCAA Convention.
On Wednesday, there was still sightseeing for me (city tour and St. Monica Peer). The Thursday was very intense (from 8:00 to 21:00 at the Convention Center) with lots of meetings and activities. The selection of good presentations is so great, that you are always under pressure: Shall I go to practice demonstration A or B or rather to the lecture on the subject X, Y, Z?
I have seen a practice presentation by Bernd Stöber and three lectures (Dick Bate, Bodo Menze and Wayne Harrison). Reports about Soccerawareness (Wayne Harrison) and The Schalke Way (Bodo Menze, Gerald Asamoah) will be published tomorrow.
Afterwards numerous trainers came to the booth of Taktifol (photos will follow tomorrow!) and got information about DVDs, books, eBooks and eVideos. In addition, I had prepared a present for the coaches, who had announced their arrival at the booth by e-mail.
Special congress fees also for those who can't visit the convention and have to stay at home instead
For the subscribers of our newsletter, we have got two congress offers from the Institute for Youth Football and two of easy Sports-Software, which are valid for one day.
Institute for Youth Soccer – Special Offer for today (only valid until 14.01.2017):

a) eVideos-Series (Seminars): PRESSING IN SOCCER (SEMINAR 1-4)

b) eBook: SOCCER-AWARENESS ONE TOUCH TRAINING
easy Sports-Software – Special Offer for today (only valid until 14.01.2017):

b) EASY SPORTS-GRAPHICS 7 PROFESSIONAL FOR WINDOWS – EASY SPORTS GRAPHICS 7 PROFESSIONAL FOR MAC
---
Impressions from Thursday, January 12, 2017:
Dick Bate – Defending
The first lecture today filled the hall to the last place, because Dick Bate (England) held the day before:
"Defending – Reading the game – Decision making"
In 2004, I met Dick at a congress in Philadelphia, and we meet whenever I am in the USA at the NSCAA Congress, because Dick Bate is a prominent presenter (theory and practice) and at all NSCAA congresses regular guest with a giant fan base.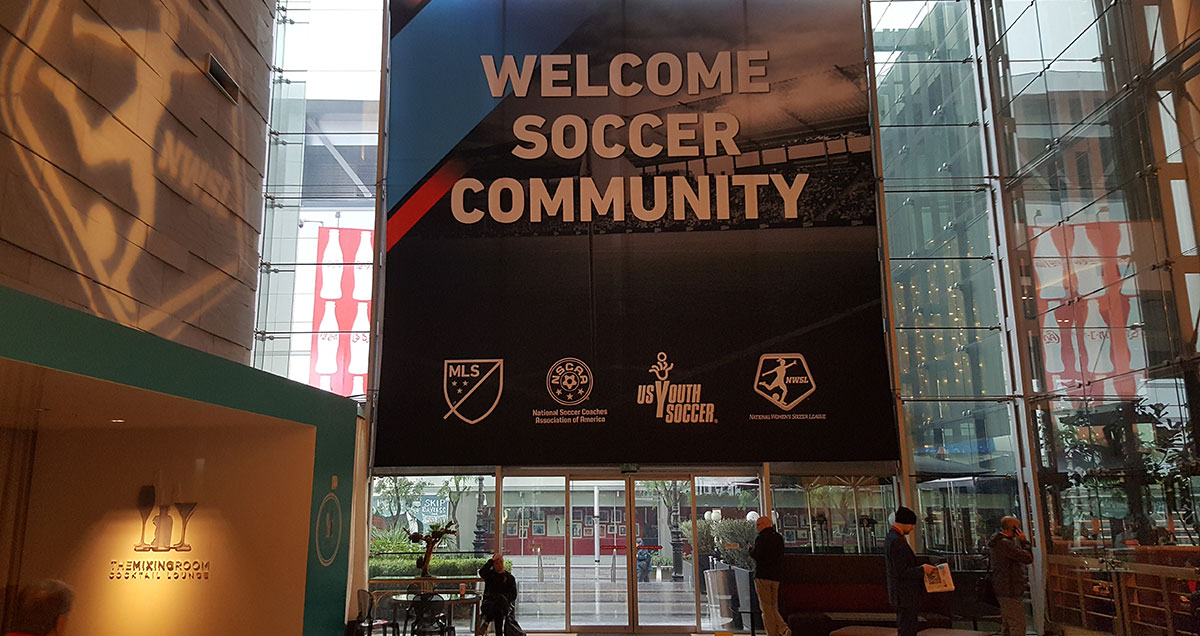 Bernd Stöber (DFB) – 1 v 1
The only practice demonstration I could follow today was the one by Bernd Stöber (DFB) on the subject of 1 v 1. In his usual, sovereign form, Bernd presented exercises to the offensive and defensive 1 v 1 behavior. In doing so, he repeatedly interrupted the action to give the players valuable coaching tips. Before the demonstration, I met Bodo Menze (FC Schalke 04), with whom I had worked together on Schalke in the Youth Department for many years.