Transition Play – CREATING A GAME MODEL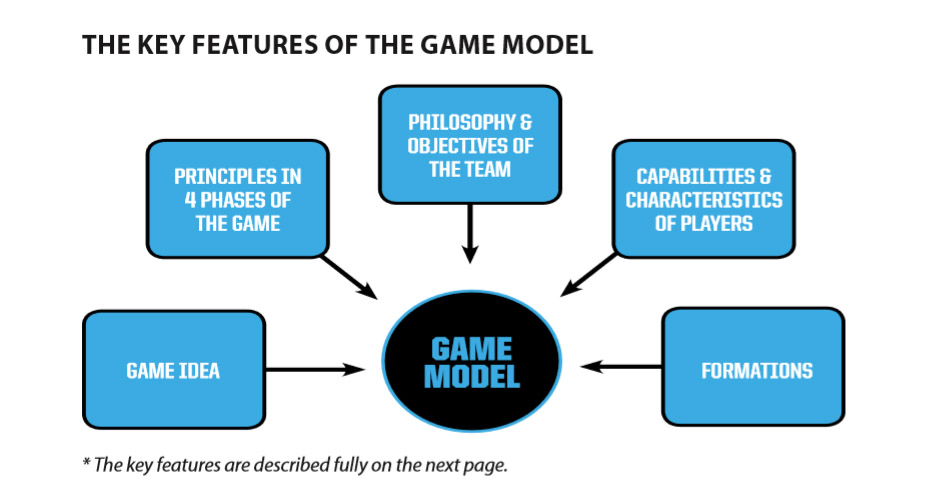 How can you train for the transition phases?
How can you organise your training of transition play better?
What is the best way to coach transition play?
To answer these questions, we must first look at what the appropriate training is. My personal view is that good training has to be game realistic (taken from the game and for the game). This creates substantial training and gives us the results that we want – it is the most effective method to organise your team and work on specific match scenarios. This helps our players and the team to apply exactly what we want from them on the pitch.
How can we make sure our training is game realistic?
What is our guide?
For each training session we need to focus on meeting our targets we want to apply on the pitch. The objective creates the practices, but the talent of the players and the coach's ability is what defines and differentiates the training. The game itself is the guide, but not any game, it must be our own game – how we want to play from the moment we lose the ball and how we want to play from the moment that we win the ball. Before creating specific practices, we must first create our own 'Game Model' which will be our guide for the tactics and training of our team (see diagram below).
Game Idea
How do we want to play football? This includes the style of play in every phase of the game.
Principles in 4 Phases of the Game
Those who want to succeed in all 4 phases of the game start with the fundamentals and basic principles, working through sub-principles step by step. Football is played in specific areas and specific zones, so the training should not be general and unspecific – it must be specific and concrete.
Philosophy & Objectives of the Team
The purpose, vision, mission, short-term goals, medium-term goals and long-term goals of the team.
Capabilities & Characteristics of the Players
What players do we have in our team? What tactical, technical and physical skills do they have? What are their strengths and weaknesses? Analysis of all of these elements can help us to create a path to follow in our work and in relation to the transition phases.
Formations
With this in our minds, we must find the appropriate formations that can best utilise our players to achieve the team goals and be directly linked to the basic principles of our game model. We need to specifically focus on transition play and become more effective and efficient.
---
MAURICIO POCHETTINO'S TACTICS IN THE TRANSITION PHASES (TOTTENHAM HOTSPUR)
Mauricio Pochettino:
"The players have told me since that, even today, they still hear Jesus [Poch's assistant] yelling out 'press, press, press' in their dreams." "I like football to be played well from the back, to have movement both in and out of possession, to pressure high up the pitch, and to be attacking." (Balague, G 2018, Brave New World: Inside Pochettino's Spurs, Orion Publishing Group, Limited)
SESSION FOR THIS TACTICAL SITUATION (4 PRACTICES)
Session to Practice POCHETTINO Tactics – Transition from Defence to Attack (Low Zone)
1. Pressing to Win the Ball and then Keep Possession in a 4 (+1) v 4 Transition Game
Description
In a 25 yard square, we have 2 teams of 4 and 1 neutral player (inside) who always plays with the team in possession. The team that starts with the ball has all their players at the sides (blues in diagram). The objective for the blue team is to complete 6-8 passes (1 point) or keep the ball for 10 seconds  (1 point). The objective for the white team is to press and win the ball. If they win the ball, the whites try to move to the outside positions as quickly as possible, maintaining possession with the neutral player in the meantime (1 point). They must open the pitch in transition from defence to attack. Once they are all outside, they then try to complete 6-8 passes or keep the ball for 10 seconds (1 point).
Rules
1. Players are limited to 2-3 touches and the neutral player has 1-2 touches.
2. In the transition to attack, the players have unlimited touches until they are all positioned outside.
Coaching Points
1. The defending team need to press as a unit to limit space/time and win the ball.
2. After a team wins the ball (transition), focus on: Quality of pass (ideally 1 touch), correct decision making, appropriate angles and distances for support play + good communication.
Full Sessions from the Tactics of Pochettino, Sarri, Jardim & Sampaoli
Learn to "Coach Transition Play" – Defence to Attack and from Attack to Defence
with 83 Practices based on 22 Transition Game Situations from the Tactics of:
Mauricio Pochettino, Maurizio Sarri, Leonardo Jardim and Jorge Sampaoli
After the hugely popular Coaching Transition Play book, volume 2 provides more new ideas to help coaches improve their training sessions in the most important phases of the modern game – the transition phases.
Some of the best performing coaches and teams during the transition phases in recent years (Pochettino's Tottenham, Sarri's Napoli, Jardim's Monaco & Sampaoli's Sevilla) have been studied so you the coach, can learn to input their tactics into your training sessions.
This book provides tactical analysis of Mauricio Pochettino, Maurizio Sarri, Leonardo Jardim and Jorge Sampaoli's tactics.
Michail Tsokaktsidis is a UEFA 'A' Licence coach and has used this analysis to produce 20 full sessions (83 practices) including:
Transition Games
Fast Break Attacks
Counter Attacking
Small Sided Games
Pressing to Win the Ball
Defensive Reactions to Recover the Ball
Team Shape and Organisation
You can use these ready-made sessions to practice these top coaches' tactics and find solutions for every tactical situation:
Transition from defence to attack in the Low, Middle and High Zones.
Transition from attack to defence in the Low, Middle and High Zones.
20 Transition Play Tactical Analysis Topics including:
Pochettino: High Intensity Pressing and Fast Break Attack from the Middle Zone
Sarri: Exploiting Free Space in the Opposition Half with a Fast Break Attack
Jardim: Fast and Direct Counter Attacks with Through Ball in Behind
Sampaoli: Fast Transition with Midfielders Tracking Back to Get Behind the Ball
83 Practices (20 Full Sessions) including:
Direct Counter Attacks with Driving Support Runs in a Position Specific 2 Zone Game
High Press to Win the Ball + Fast Attack in a 2 Zone Small Sided Game
High Intensity Pressing in the Middle Zone and Fast Break Attack in a 3 Zone Game
Quickly Returning into Defensive Shape After an Attack in a Dynamic 11 v 6 Practice
Switching the Point of Defence to Recover the Ball as Quickly as Possible in a Dynamic Game
Condensing the Space After Losing Possession in the Low Zone with a Numerical Disadvantage
About the Author
Michail Tsokaktsidis
During my playing career I won 6 championships with 5 different teams. At the age of 29 I stopped playing and completed my studies in fitness conditioning and football coaching. I was also a student of the UEFA coaching schools (H.F.F. in Greece) and I am a fully certified UEFA 'A' Licence coach.
I started my coaching career coaching at academy level for 3 years and for the last 6 years I have been a head coach at F.C. Doxa Dramas (professional Greek team) and 3 different semi-professional teams in Greece (winning 2 championships).
UEFA A Coaching Licence
Bachelor Degree in Physical & Sports Education (Specialising in Soccer Conditioning).
Author of 3 Books Jose Mourinho Attacking Sessions (2013) & Spain Attacking Sessions (2014) Coaching Transition Play Vol. 1 (2017)