This Complete Soccer Coaching Guide contains 73 drills and exercises and is packed with a wide range of topics by soccer coaching expert, Lawrence Fine.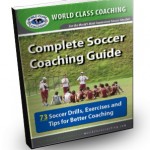 This book has over 140 pages that covers topics, from technical drills to conditioning to formations and small-sided games. These drills have been used by 1,000s of coaches from over 70 countries across the world to improve their coaching knowledge and the quality of their training sessions. Here are just a few topics covered in the 140+ pages of this eBook.
 A warm-up that can be used before a training session or game
 A small-sided defending game
Shooting and finishing to two goals
 A drill to work on the build up to the final third
Points for skills game
Circle Drills
Combination play drill that works on finishing and goalkeeping
 A possession small-sided game
An all-in-one drill
And there are many many more drills and exercises packed into the 140+ pages of this eBook…and best of all it's FREE….
———————————————————————————————–
New: Tiqui Taca – One Touch – 19 Variations in the 6-Cone-Drill