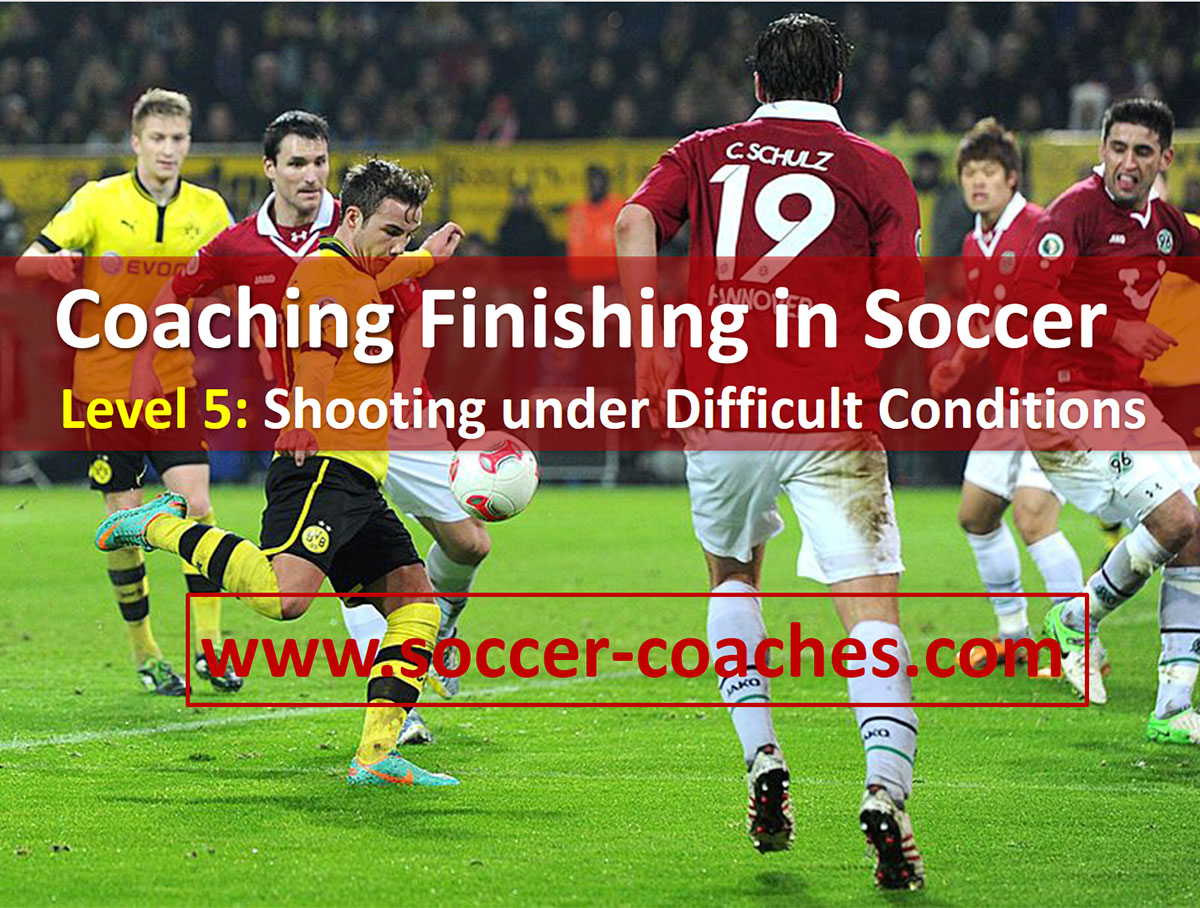 Coaching Finishing in Soccer: 8 Levels from beginner to professional
Level 5: Shooting high balls, sprinting shooting, turning and jumping before shooting
Finishing gets more difficult when the ball is coming in the air before shooting. The player has to trap the ball or to shoot at goal directly. Booth has to be trained in special drills. In this article we show the first drills for learning the technique of volley, half volley and side volley. In the next articles for level 5 you will find game related drills and small sided games for shooting high ball. In this stage the coach should focus on the organisation. The players have to have many repetitions. Therefore, you have to build up as many goals as possible.
Training system:
Pre exercises: Shooting ball that the player has thrown himself.
Shooting (with head or foot) a ball that a partner has thrown
Shooting a high ball (after flank play, a cross)
Shooting under difficult conditions (Sprinting, turning, jumping before shooting)
Pre exercise: Volley, half volley and side volley out of own hand
Organisation: As many goals as possible, in a standard goal you can have 2 groups, start 1-2 m in front of the goal, maximum 2-4 players at one station. 1 ball for each group.
Sequence:
The first shooter has got a ball in his hands and tries to score with a volley (half volley).
He gets the ball out of the goal and delivers it to the second player.
Coaching-Tipp
The next player is allowed to shoot, when the first player is out of the goal.
Build as many goals as possible to have small groups of 2-4 players.
Increase the distance step by step (depending on the age and lever of the players)
Players should shoot the ball strong and flat into the net.
Ball not too far away from the body and head and knee over the ball
Toe to the ground while hitting the ball and swing the leg to the goal.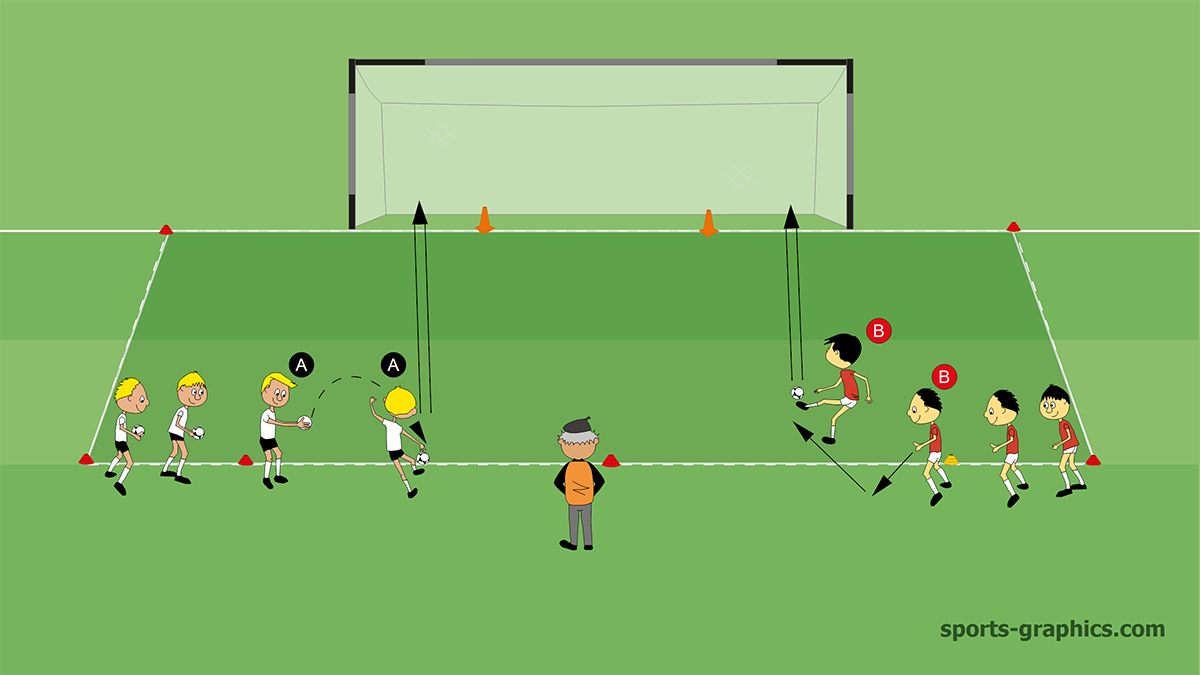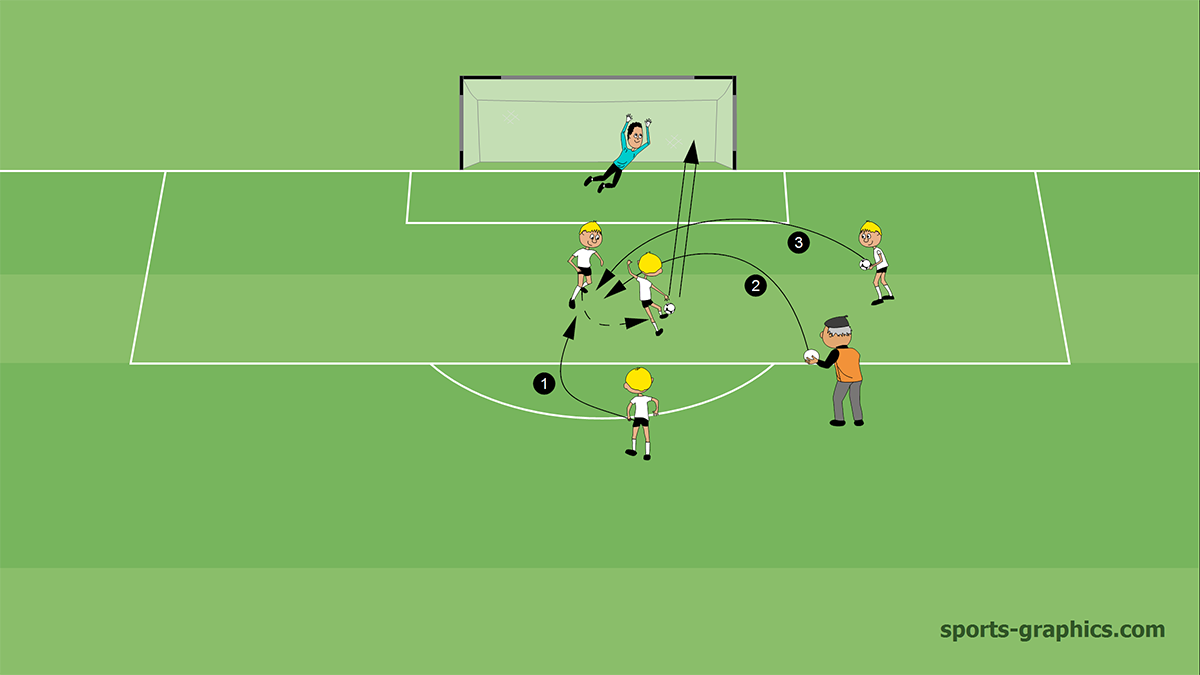 These are basic drills for volley, half volleys and side volleys. This is shooting technique training. The next articles for level 5 deal with flank play and combinations with high balls.