There is a new eVideo with Matthias Nowak from Bayern Munich (Technical and creative coach)
Presenter: Matthias Nowak
Director: Peter Schreiner
Lenght: 140 Min.
Introduction Price:  39,95 €

Thematic focuses:
Warm-Up of the brain
Movement-Tasks in 3 steps

In Module 1 Matthias Nowak presents important movements while standing and without touching the ball, that later in the second and third module will be broadened and modified
In Module 2 the focus will lay on movement-tasks while standing with tip- and ball-touches
In Module 3, Matthias Nowak shows movement tasks and combinations with ball in forward motion.
Innovative technical training:
New learning and changing routines
Hinder routines
Break through automatisms
Fluent and economic movements
Competence of motion – intelligence of motion
Variability and creativity instead of automatic acting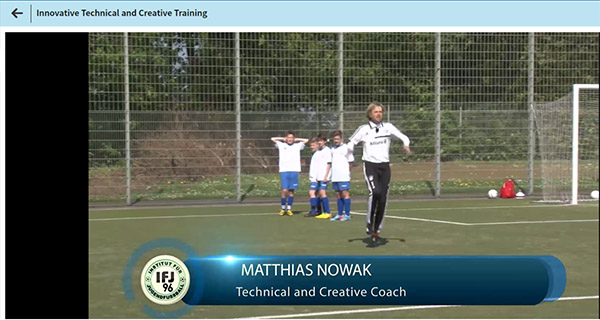 Technical- and creative training:
It will be about connecting eye, brain and body. Those (inter-)connections will create a considerable advantage in game. Quick and better perception and with that better decisions that have to be made quickly and rightfully.
The innovative technical training will initiate a self-organized process within the players, helping them to create ideal "plans of motion" that will care for the ideal execution of action plans
The innovative technical training also creates fluent and economic motions beyond the ideal of the execution of a motion or technique
The innovative technical training quickly, efficiently and sustainably solves movement-problems through recoding the memory of motions
The players will realize their own body actively. Limiting patterns will be dissolved and new intelligent patterns for more and better plans of motion will be established.
You learn through different variations instead of automatization. Through the highest variable access of multiple movement-patterns the attention to tactical guidelines can be increased.
The innovative technical training has to be a challenge for the players. It will be about finding a solution for a movement-exercise.
Technical training:
Movement coordination with the ball (Knowing about the individuality and variability of motion and technique)
Teaching of intelligent motion patterns for a better variety of movements and a better conception of the own body
A feel for the ball beyond the ideal (rhythmic connections of movements under the aspect of space, time and dynamics)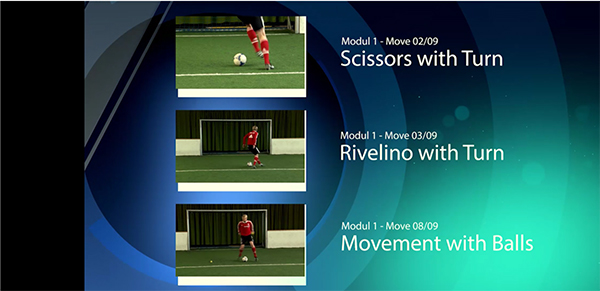 Creative training:
Teaching of the executive functions (definition) in football
Correlation/ cognition and executive functions
Football is "hard brainwork" – a comparison!
Different profiles for different positions in the game
The best playmaker of the world
Game-intelligence tests – do they work?
Single-exercises, team-exercises, game types
Matthias Nowak cooperates with the Swedish scientist Torbjörn Vestberg: "Matthias Nowak developed training types that produce perfect results. His eVideo offers the singular opportunity to learn from one of the best technical-coaches of the world."