Together with our media partner the Institute for Youth-Soccer (Germany) we are proud to present our next Webinar-Series with critically acclaimed author (FC Barcelona training sessions, Pep Guardiola attacking tactics and many more) and speaker (NSCAA – USA, Derbystar Congress – Germany, Greece, Saudi Arabia etc.) Athanasios Terzis!
Webinar Overview
This series consists of three separate webinars. All webinars include detailed diagrams, videos, and presentations. Participants are encouraged to ask questions after the webinar!

Date:

25th (expired)

, 27th and 29th of April, at 6 PM (CET).
Duration: 1 Hour, (each Webinar), followed by a Q&A sessions
Content: Game theory, Tactics & Game Solutions, Exercises
Speaker: Athanasios Terzis
Webinar 1 – Saturday, 25th of April
(
expired)
The role of attacking midfielders in overload creation and exploitation with the 1-4-3-3 – An analysis of Pep Guardiola tactics with Manchester City
We will analyze the attacking tactics of Guardiola with Manchester City and focus on how, through intelligent positioning, the attacking midfielders create overloads in specific areas of the field.
Feedback – Peter Hyballa – Cheftrainer NAC Breda: "An excellent webinar on an interesting tactical system with its characteristics and position-specific ideas as well as typical drills. Coach colleague Terzis gave a detailed and in-depth look at the topic in the offensive 4-3-3 with many overload situations. Very well Athanasios!"
---
Webinar 2 – Monday, 27th of April 
(
expired)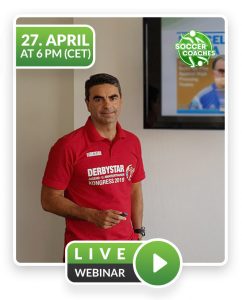 Successful wing play with the 1-4-3-3 formation – Positioning, movements and combination play on the wings based on the tactics of Pep Guardiola with Manchester City
We will take another look at Pep Guardiola and his Manchester City team, but this time focussing on how, through appropriate positioning, well-timed movements and effective combination play on the wings, the Citizens manage to break through the opposing team. 
---
Webinar 3 – Wednesday, 29th of April 
(
expired)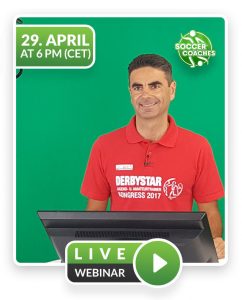 How to penetrate the opponents' lines with the 1-4-3-3 formation – Finding a way to move the ball to the free space between lines according to tactics used by Guardiola, Klopp and Sarri
The last webinar will take an in-depth look at the tactics used by top coaches such as Jurgen Klopp, Pep Guardiola and Maurizio Sarri. The concepts of space, of effective supporting angles, and the types of passes (first, second and third line) used according to the situation, are analyzed in detail. The focus lies on how all these elements can be used effectively in order for the attacking team to exploit the available space between lines. 
---
About the Author
Athanasios Terzis is an UEFA A coaching licence holder and an instructor of the Greek FA. He has a bachelor degree in physical education and a Master of Science in coaching and conditioning. He is a well-known author of 15 coaching books which have been translated into many languages including English, Spanish, German, Italian, Japanese, Chinese, Korean and Greek. His book FC Barcelona training sessions has been awarded by the Italian FA and Arrigo Sacchi as the best coaching book for 2014.
Publications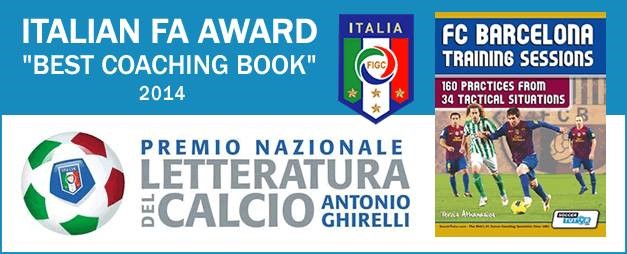 Terzis received the italian FA Award for best soccer book in 2014. Below you will find a list of his most popular publications, which are available als digital download/ebooks!