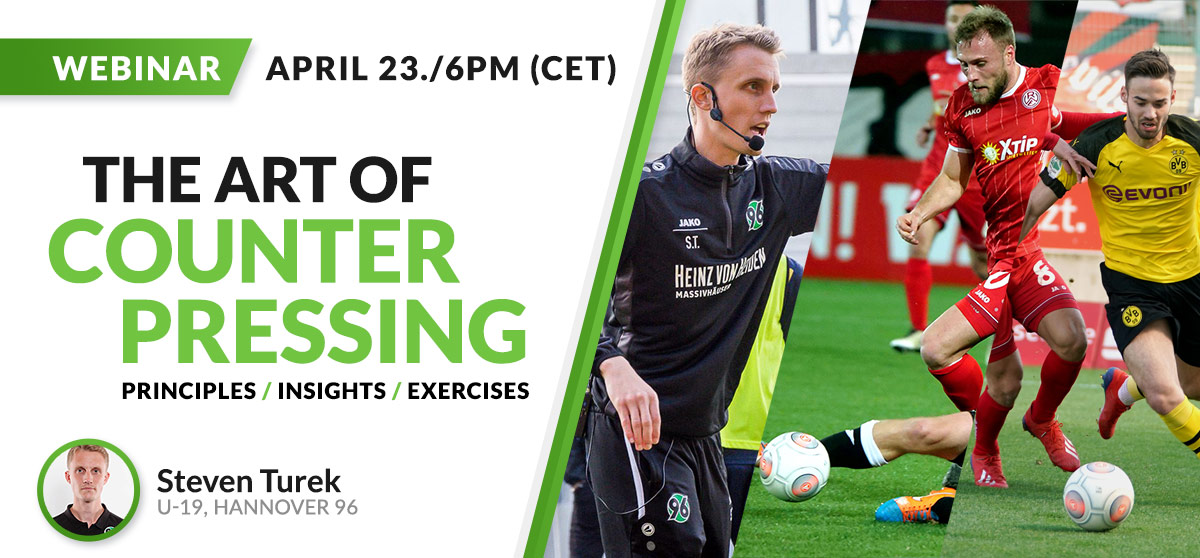 Together with the Institute for Youth-Soccer from Germany, we are proud to present our first webinar. 
Join coach Steven Turek on Thursday 23rd of April at 6 PM (CET) and dive deep into the world of counterpressing!
The Art of Counterpressing Webinar – Informative and interactive!
In this 1 hour webinar – The Art of Counterpressing, followed by a Q&A session, you will learn how to implement and train counterpressing and take an in-depth look at what makes counterpressing teams like FC Barcelona and Liverpool F.C. so successful.
His Presentation is divided in three main topics:
Game Theory:

 How to understand the groundwork, how to analyze and understand the tactics that are involved in counterpressing

Tactics & Game Solutions:

 The actual execution on how to play counterpressing successfully – including principles, many details and error patterns

Exercises:

 The main component on how to implement counterpressing into your daily training. With lots of drills, ideas on how to vary them and change them up according to the skill level of the players.
The webinar is designed to be interactive and participants are encouraged to ask questions after the presentation!
About Steven Turek
UEFA A Licence, the under 19 manager of Hannover 96, is a tactics expert who has published various books, online-seminars and dvds about counterpressing and soccer tactics. In addition, he is an in demand speaker on coaching conferences around the globe, with appearances at soccer conferences in Germany, China, Dubai, Italy and many more.
Webinar Overview
Title: The Art of Counterpressing
Duration: 1 Hour, followed by a Q&A sessions
Content: Game theory, Tactics & Game Solutions, Exercises
Speaker: Steven Turek (Hannover 96)