Author: Peter Schreiner
Soccer Tactics DVDs:
Ball-oriented Defense – Introduction Basic Defense Formations
Duration: 57 Minutes
Presenter: Ralf Peter (DFB coach and educator)
Editorial Direction: Erich Rutemöller (former DFB Director of Coaching)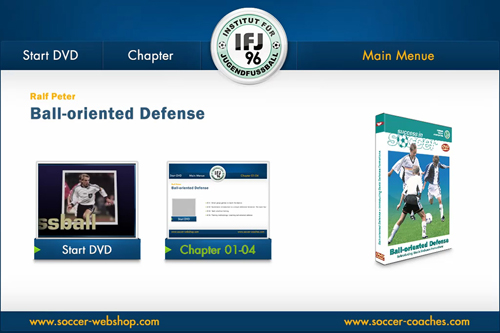 This DVD shows how to start teaching the basics of ball-oriented defense (providing support, covering teammates, double teaming on the player with the ball) at the 11- and 12-year-old age level.
For more advanced players, it also present a step-by-step procedure for introducing defense formations, using the back four as an example.
The third part of this DVD contains exercises developed specially to teach individual and group defense tactics.
DVD includes
Using small-sided games to teach tactics (games in which one team outnumbers the other)
Teaching the back four step by step; basic movements, back four against attacking formation with two forwards cooperation with midfield and goalkeeper.
Teaching ball-oriented defense step by step: basic individual tactics, defending in pais, fending in groups of three.