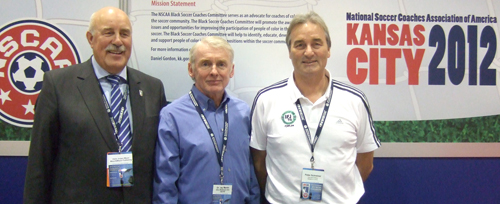 This year's NSCAA convention for football coaches took place from 11.-15. January 2012 in Kansas City (USA). This is the world greatest soccer coaches Congress

The congress pursued with great interest the training demonstrations and presentations, as well as the football exhibition with more than 300 exhibitors presented their products and innovations.
Speakers from the USA, Germany, Mexico, Japan and England offered a varied and interesting program:
The DFB was also represented by Frank and Daniel Wormuth Niedzkowski:
"Coaching the details – Tactical Training for Technique in Build-Up and Vertical Play" Frank Wormuth, Head of Licensing and Head Coach Pro DFB U20 Men's National Team Deutsch, Daniel Niedzkowski, DFB, Pro-Staff License, Presented by Seattle Sports Sciences
Learn more about the speakers:
http://www.nscaa.com/convention/clinicians
Peter Schreiner meets Jürgen Meyer (Meyer & Meyer Verlag) and Jay Martin (editor of the NSCAA Soccer Journal) on the 65th NSCAA Convention in Kansas City.

At the invitation of the NSCAA Peter Schreiner participated in the annual congress of the Association of American trainer and held talks with the editor of the NSCAA Soccer Journal, Jay Martin.
It focused mainly on the marketing of the online seminars Sportakademie24.
Jürgen Meyer and Peter Schreiner spoke about a new book project and the joint cooperation of the Meyer & Meyer Verlag and the Sportakademie24.

The books by Peter Schreiner and Jay Martin are recommended by the NSCAA and officially offered at the state of the NSCAA.
The German edition "Perfect ball control 'has now been translated into Spanish and English and takes place at the coach very great recognition. They especially appreciate the many photos and graphics (easy sports-Graphics), which illustrate the book and easily comprehensible.