What is Tactical Periodization?
As the name suggests, tactical periodization is a soccer-specific periodization
that prioritizes tactics. In brief, the goal of tactical periodization is to conceptualize the implementation of a playing concept.
In doing so, a specific concept is created from a mix of tactical strategy as well as
training and sport-scientific findings that is meant to reflect the basic tactical principles
of a playing concept.
Who developed Tactical Periodization?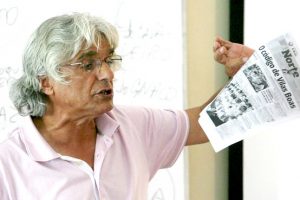 Originally, the "periodização táctica," or tactical periodization, is based on the ideas of Portuguese sport scientist, Vitor Frade, who developed this model in the 1990s and who is a mentor to José Mourinho and André Villas-Boas. Also, the ideas and concepts of college professor, Fransico Seirullo of Spain, who coordinated athletic training at FC Barcelona, are and have been important contributions. Even if some coaching greats, like Ernst Happel, have pursued similar ideas in the past, the tactical periodization concept in its entirety is unique.
Previously, Louis van Gaal and Guus Hiddink also provided interesting and important
input with their ideas, and Germany even had a coach, Volker Finke, who then worked
for SC Freiburg and already structured his training based on this tactic and even back
then used the implicit learning approach.
Surely the best known proponent of tactical periodization is José Mourinho since he is
also the most successful proponent of this concept.
"We can differentiate between traditional analytical training where different contents are trained separately, integrated training that uses a ball but is still no different than the traditional method. And then there is my training method, called tactical periodization. While many people think that tactical periodization has something to do with the two previously mentioned methods, it is a completely different approach." -Victor Fade
Tactical Periodization – The Basic Areas
As previously mentioned, in tactical periodization, tactics always form the center of
planning and training design because only with tactics can other performance factors,
such as technique or athleticism, be transferred to a soccer game.
Tactics can be divided into three basic areas that build on each other:
Individual tactics
Group tactics
Team tactics
As this list shows, team tactics initially always build on individual tactics. Consequently, players must have excellent training in individual tactics and perfect 1-on-1-performance because this concept is based on perfect individual tactics. It is logical that even the best team tactician cannot form a top team out of 11 players with weak individual tactics.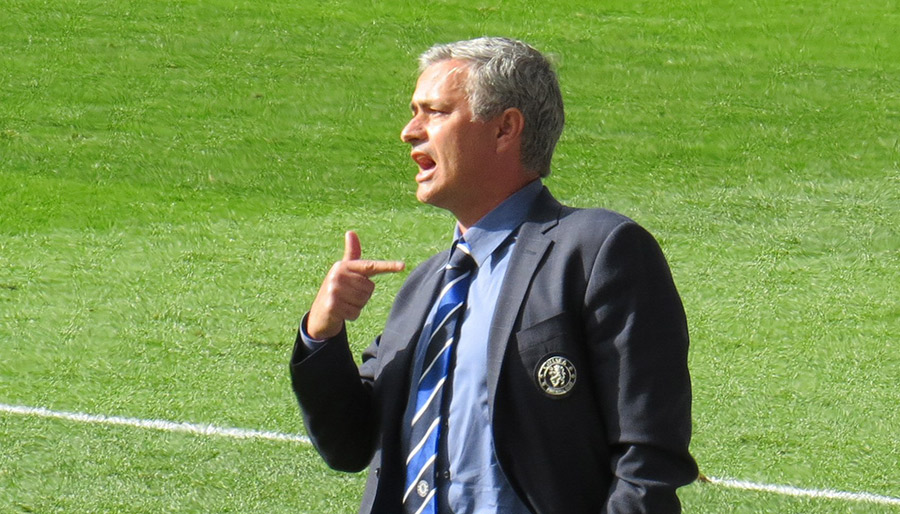 The Performance Factors
Most important about the tactical periodization model is the idea of a holistic approach
that can show the complexity of the game.
The four performance factors in soccer are often trained independently of each other,
and focus areas are set separately within the individual areas, which makes it impossible
to project the complexity of the game: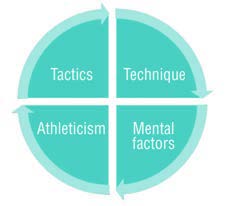 Without this understanding of the complexity, individual components such as technique and speed cannot possibly be integrated into an overall game context.
Running fast is good…
But what good does it do in soccer if a player is always at the wrong place at the wrong time? That is why in tactical periodization the four performance factors are never trained separately, and, as the name suggests, tactics are always at the center.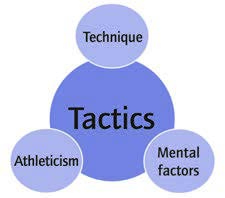 Any game situation a soccer player wants to successfully solve always requires the following factors to come together, beginning with a tactical decision:
First, the player must make a decision (tactics).
Next, he must execute a motor skill (technique).
This, in turn, requires movement (athleticism).
And it is always driven by emotions (mental factors).
The adaptation process that is triggered with complex and realistic soccer training is called teleonomy, which is the scientific term for targeted and purposeful behavior of
organic systems that combines necessity and coincidence.
Who is Tactical Periodization for?
All those who think that the tactical periodization model is only suitable for professional sports:
This model can easily be adapted to all ages and performance levels. For instance, the
youth teams of the professional teams José Mourinho coaches are coached based on a
holistic concept that builds on the skills that the professional team requires.
---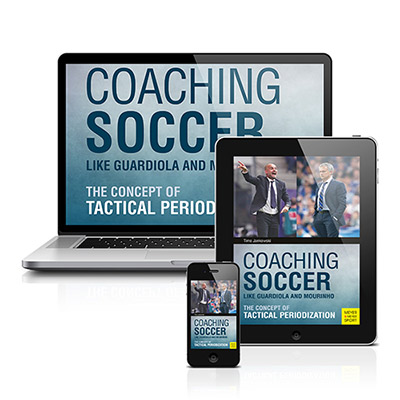 Learn more about Tactical Periodization, with the new eBook – "Coaching Soccer Like Guardiola and Mourinho"
The Concept of Tactical Periodization.
In this rich illustrated eBook, Timo Jankowski dives deep into the fascinating training concepts of tactical periodization on more than 240 Pages.
Get More Information Here