Laco Borbély | Jaroslav Hřebík | Peter Ganczner | Andi Singer:
Pressing in Soccer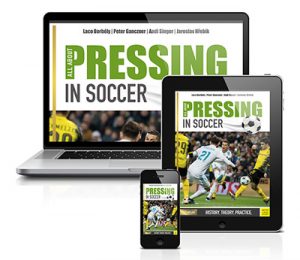 History. Theory. Practice
All About Pressing in Soccer provides a detailed look at the history, theory, and practice of pressing soccer. With this comprehensive resource, the coach and player will improve their understanding of the game, making them stronger and more successful as a coach or player.
Beginning with a look at the history of pressing soccer, the reader will gain background knowledge crucial for understanding the theory behind pressing, which is presented in the following section. Once the reader understands the why and the how of pressing, he will be able to use the practical techniques presented in the third section.
With this book, the reader, whether a coach or a player, will have all the tools necessary to implement a strong pressing tactic in the game, giving them that necessary edge over their opponents.
The book is divided in 3 Parts:
How It All Began—Historical Roots of Pressing
What Is Pressing and Why, How, and When to Apply It—Pressing Theory
How to Do It—A Practical Manual for Pressing
THE AUTHORS' OVERTURE
This monothematic elaboration on pressing soccer is the result of team cooperation, with the plain ambition to provide the reader with not only an encyclopedic knowledge on this theme but also a historical context for the development of this frequently used defensive-game instrument up to the present day.
Based on its genesis within the game, we have tried to illustrate the general and specific theoretical aspects of this defensive-game instrument. Since our ambition has reached all the way from the pitch and to the soccer match, we have also dealt with practical topics concerning practice, improvement, and the application of pressing in the game.
1.1 DIAGNOSIS OF PRESSING, OR WHY, HOW, AND WHEN TO APPLY PRESSING IN SOCCER
Why Pressing?
The Evolution of Soccer
Pressing As an "Innate Diagnosis" of Soccer (Coded by the Confrontational "Gene" in Its DNA)
Pressing As the Need for Pressure
Pressing and Putting the Offense and Defense on Equal Footing
Universalism and the "Totalization" of the Game
The "Liberalization" of Soccer
Defensive Reaction Is Replaced by "Action"
Proactive Defense, More Effective Offense
Pressing Elements Before Chapman  and After