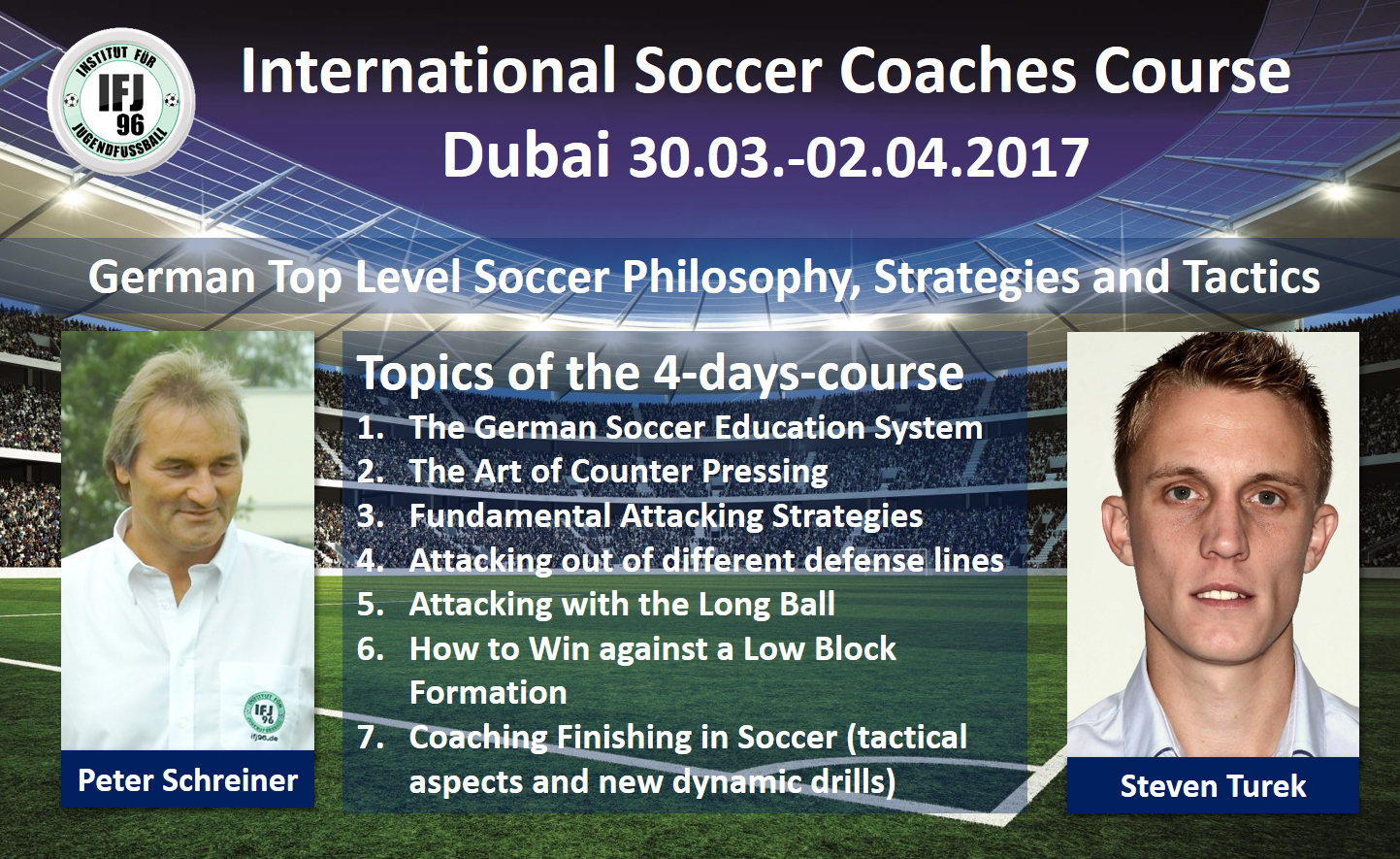 Seminar will be in Dubai, in Al Shabab Alarabi Club from 30 March 2017 untill 2 April 2017 (daily from 8.00 pm until 12 pm.
The price is 1,300 dhs without hotel and 3,000 with hotel (Hotel is IBIS Diera City center (stay 5 nights +WI Fi + breakfast + GEM + Swimming pool). Between the hotel and the club is 10 minutes by metro or even by taxi ( it is 4 KM Distance).
German Top Level Soccer Philosophy, Strategies and Tactics – The Secrets behind the German Success in Soccer
Seminar: 30th to 02nd of April 2017
Place of Seminar: Dubai
If you want to get more information or to register please contact:
Presenters:
Peter Schreiner
Steven Turek
Abdullah Hassan
Topics of the 4-days-course:
The German Soccer Education System (Structure of Bundesliga Clubs Academies, German Talent Development)
The Art of Counter Pressing
Fundamental Attacking Strategies
Attacking out of different defense lines
Attacking with the Long Ball
Modern Attacking Strategies – How to Win against a Low Block Formation
Coaching Finishing in Soccer (tactical aspects and new dynamic drills)
General Information
There are classroom and field sessions
Presentations filled with perfect graphics, animations and original game footage of European top team – to match the highest standards in coaching education.
Fundamental Attacking Strategies
Fundamental ideas about attacking out of different systems of play. Detailed information for build up and finishing situations like:
Attacking out of the Back Three
Fundamental ideas for building up out of formations with a back three
Small sided games to get a feeling for the fundamental principles and game like exercise to use the ideas in games.
Attacking with the Long Ball
In the age of Tiki Taka and short passing philosophies a different philosophy has its place. But what kind of players do you need to successfully apply this strategy? In which situation does a long ball make the most sense?
The Art of Counter Pressing
The modern soccer strategy 'counter pressing'. Used by the world's best teams like FC Barcelona, Bayern Munich and much more! Winning the ball back as quick as possible! But how exactly does it work? Exercises and drills to perfect counter pressing in every training session.
Modern Attacking Strategies – How to Win against a Low Block Formation
How to play against low block teams?
What is the difference between opponents with a back four line and a back five line?
Analysis from teams which constantly play against low block teams like Bayern Munich and FC Barcelona.
Coaching Finishing in Soccer
(Theory, Drills and Competitions)
How to score more goals?
How to improve perception and vision?
How to improve the tactical skills in scoring situations?
How to bring strikers under pressure of an opponent and time?
Do you know one of the most sentence in interviews and analysis after matches, especially when a team lost? "We had enough scoring opportunities but we missed to use them." So, what are the common mistakes made by strikers and how can we help them to get goal getters? Peter Schreiner will give lots of information and drills to improve your players to score.